The simple answer is, there is no difference. In modern American outlets, the neutral wire connects to the taller opening (usually on the left), the dangerous live (or hot) wire connects to the shorter opening (usually on the right), and the ground, if available, is the round opening in the center.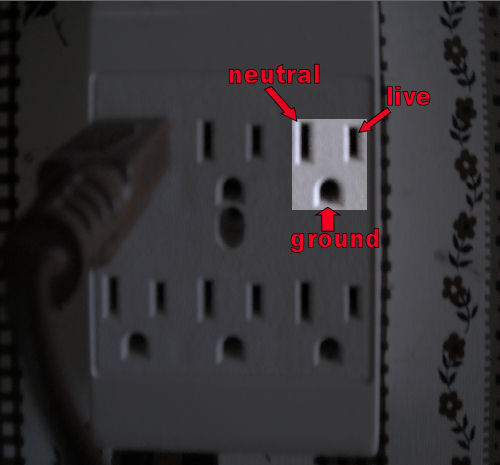 (a typical American outlet)
Behind the scenes, ground and neutral are both connected together at the service panel (and then are both connected to a large metal stake driven into the ground outside your house). Why are there two separate openings in the outlet that both go to the same place?
The reasoning is that they serve different purposes. As stated in another question, every circuit needs someplace to arbitrarily serve as "0 volts." In AC circuits, that place is the neutral, and is considered the end point of the circuit. The ground, however, is attached to the chassis of the device plugged into the wall, and is not connected in any way to the neutral or live wires, or any other part of the circuit. It is completely unnecessary for proper operation of the device, and its only purpose is safety: if a wire in the circuit should come loose and touch the case, the case could become charged, electrocuting the next person to touch it. With the case connected to ground, however, the blunt of the current will flow through ground (and hopefully a fuse will blow), protecting the next person who touches the device from otherwise potential death.
The main source of confusion comes from the fact that "0 volts" is sometimes referred to as "ground" in DC circuits; in fact, the electrical symbol used to represent the 0-volt point in diagrams is called "ground!" Due to this, many electrical engineers will (mistakenly!) attach the device's casing to neutral (0-volts in AC) or treat the casing itself as a 0-volt point. Under normal conditions, this is unnoticeable; however, should the neutral become disconnected (either by a broken power supply or faulty wiring), the casing could become charged [I once had a computer which would minorly electrocute anyone who touched any unpainted metal on it, even when the computer was turned off!]
***Never use the casing as part of the circuit!!!***
---
Additional Reading: